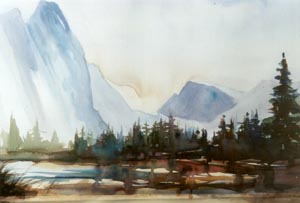 onThis watercolor painting was done at yosemite during one of Donna's artist trips. She organized workshops two times a year for ten years. She no longer organizes these trips as the status of Yosemite reservations are difficult with groups.
Quotes from Donna: We spent our days and afternoons painting the beautiful images in watercolor, oil, acrylic of Yosemite; waterfalls, rivers, Half Dome, etc. etc.
"One of my most memorable trips was a moonlite evening in an open air tram tour of the valley. We drove by waterfalls, and the moonlit granite rocks within the valley floor and hills of Yosemite was a stunning sight. I gave each of my students a black piece of heavy paper and white chalk. They blindly added the white chalk as they saw the moon beams on the granite rocks. it was delightful to see the sketches.
CHECK OUT THE LINKS BELOW THAT CONNECT WITH INFORMATION ON ORGANIZATIONS OF INTEREST.

http:www.judsonsart.com/featured-artist/
Judson did an on line featured article on my Yosemite Painting art classes with pictures and fun stories. I no longer take students to yosemite to paint but did it fdor ten years and loved every trip!!
www.americanimpressionistsociety.org
www.californiaartclub.org
SketchCrawl.com

OutdoorPainter.com/FieldofLavender
They did a "Spotlight Article" about me painting at the winery on the Plein Air Magazine's Online Artists Blurbs.........
www.santarosa.edu/communityed
I am a longtime art instructor (since 1998) with the Santa Rosa Junior College Community Education with their short courses.
www.rockroseart.com
We paint portraits of models that we hire. No instruction, just great practice.....
www.sonomacountyarttrails.org
My studio is open every October to the public on the second and third weekends, 10 am to 5 pm. Go to the ART TRAILS OPEN STUDIO WEB SITE FOR ALL INFORMATION. This is my 29th year in the program......