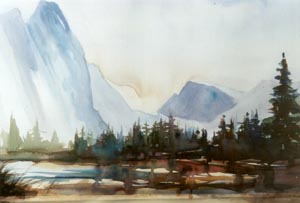 This watercolor painting was done at yosemite during one of Donna's artist trips.
Donna puts together special adventures for non-artists and artists. They take Amtrak from Martinez Caifornia to Yosemite, with pick ups in Sonoma County.
"One of my most memorable trips was a moonlite evening in an open air tram tour of the vally. We drove by waterfalls, and the moonlit granite rocks within the valley floor and hills of Yosemite was a stunning sight.
CHECK OUT THE LINKS BELOW THAT CONNECT WITH INFORMATION ON ORGANIZATIONS, ETC.

http:www.judsonsart.com/featured-artist/
www.americanimpressionistsociety.org
www.californiaartclub.org
SketchCrawl.com

OutdoorPainter.com/FieldofLavender
www.santarosa.edu/communityed
www.rockroseart.com
www.sonomacountyarttrails.org